Creative Ways to Decorate with Boxwood
Published June 13, 2019
Mills Floral Company's number one seller is preserved boxwood. For 30 years we have been helping to decorate office buildings, weddings, gift shops, and more with our beautifully crafted preserved boxwood pieces. There is something so classy and elegant about boxwood that elevates any decor. Preserved boxwood is so versatile and can be used over and over again as long as it is cared for properly. Today we want to focus on some different and unique ways to use boxwood in your home decor.
Wreath Displayed on a Mirror or Chalkboard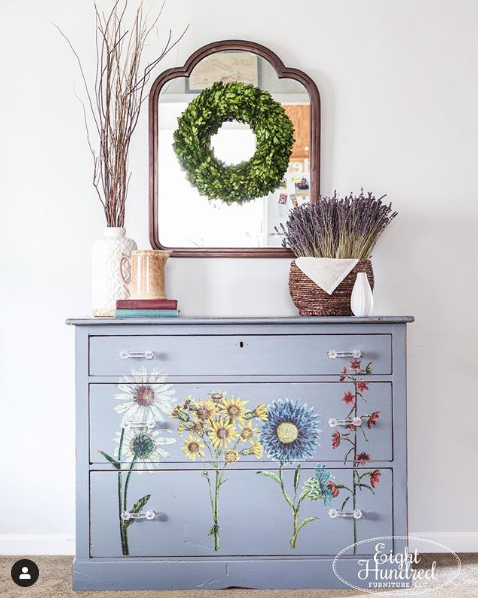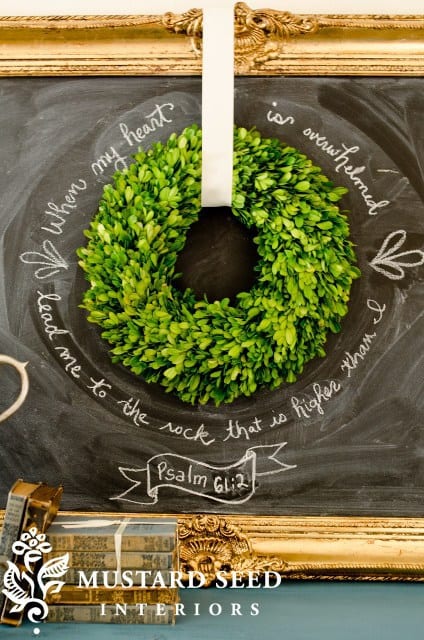 Photos Credit:
eighthundredfurniture.com
burlapandblue.com/10-favorite-ways-to-decorate-with-boxwood-wreaths/
Ever since we saw this beautiful design by our good friends at Eight Hundred Furniture we fell instantly in love with this idea and knew we had to share with you guys. The simple elegance of adding a boxwood wreath of any size to a mirror or chalkboard is absolutely stunning. It takes the decor to a whole new level and really completes this farmhouse, country look. And even better, with a chalkboard, you can draw around it and personalize your decor even more!
Wreaths in Frames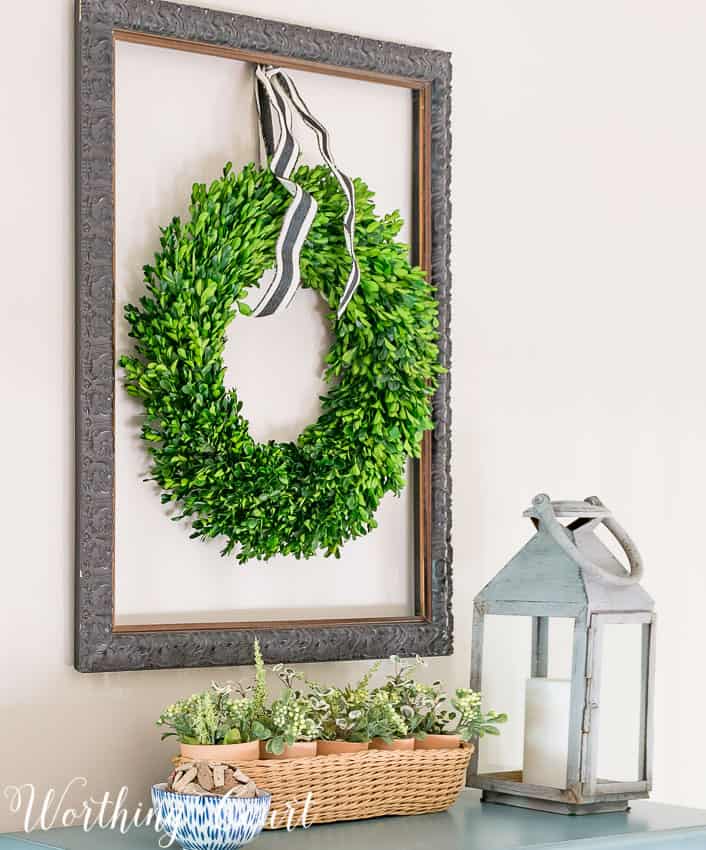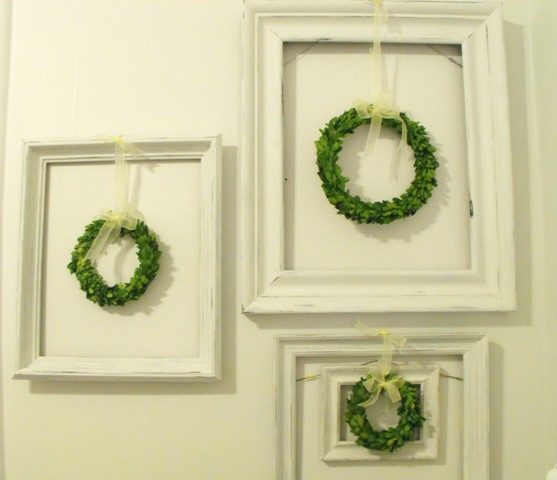 Photos Credit:
worthingcourtblog.com/dead-space-top-of-your-stairs/
susieharrisblog.com/2010/05/boxwood-wreaths.html
This design tip seems very simple, but by simply placing a boxwood wreath in an old frame it really does increase the high-end look of a space. This is a great way to recycle and declutter old picture frames. Paint the frame to match your color scheme or distress with sandpaper for a farmhouse look.
Place Setting with Boxwood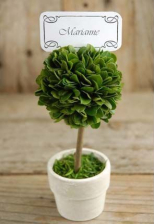 Photos Credit:
onsuttonplace.com
mywedding.com/wedding-ideas/flowers-bouquets/potted-decor-for-your-wedding-reception/?utm_source=mywedding_email&utm_campaign=DD_Newsletter&utm_medium=email&utm_content=13855
Use small boxwood candle rings as name card holders for a simple touch of greenery, especially at the holidays. The candle ring provides a certain uniformity that will boost the classy look of your place setting. Using a small boxwood topiary as a name card holder adds another level to your place setting rather than laying flat on the plate, flush with the table. Additionally, after the meal is over, your guest can take the tiny topiary home as a keepsake.
If you are looking for a more rustic vibe for your table decor consider using a boxwood leaf placemat (see below). These mats are made up of individually placed preserved, bright green boxwood leaves on a fabric backing for an exquisite feeling of nature in your home. Add this placemat to your natural decor scheme for a touch of the outdoors.
Elaborate Centerpieces

Photo Credit:
dearlillieblog.blogspot.com/2016/11/holiday-housewalk-2016.html
Use your boxwood wreath, garland or branches to line and accent larger pieces for a more natural look and feel to your home. Your guests will feel as if they have stepped into a mountain forest will they enjoy the natural textures and colors of your home decor.

Use boxwood topiaries down the center of your table to add height, levels, and greenery. By doing this, your table will look full and vibrant! Add ribbons around the pots or mix in berries and other embellishments to each topiary to customize and enhance the look of the topiary.
You can also create a tablescape with candles and candle rings lining the center of the table for a quick, yet classic centerpiece design (add berries at the holidays). Another option for decorating your table is to use boxwood garland. Have the garland weaving in and around your candlesticks for a simple and subtle green touch.
Chair Decor
You can even hang a small boxwood wreath on the back of chairs as markers or in a guest bathroom draped over towels, either way, your home will feel stylish and sophisticated.
How to Care for Preserved Boxwood
While we are on the subject of boxwood, we thought we would take a quick moment to discuss the proper care for preserved boxwood.
Always display indoors and keep out of direct sunlight. If kept outside it will start to mold and the coloring will bleed and fade if exposed to the elements for too long. Additionally, if kept in direct sunlight the leaves can turn a yellow-brown color and start to become dry and brittle.
Lightly mist once a month to extend the life of the piece. Because it is technically a real product that has been preserved to retain the fresh look of the plant, it still needs to be given some moisture. Take a spray bottle filled with water and lightly mist (1 or 2 sprays, very sparingly) once a month.
By doing these two things, your boxwood wreath, topiary, garland, etc. will stay looking fresh and green for years.
As you plan your next home decor remodel, consider using some of these boxwood tricks to giving your home a unique and stylish look that you and your guests will love for years to come.
To read more of our blog posts visit our site: https://millsfloral.wordpress.com/
Please follow us on social media!