5 Centerpiece Must-Haves for Summer
Published June 27, 2019
With each season comes the fun and exciting ways to decorate your home. One crucial part of home decor is table centerpieces, especially if you are one who loves to host multiple parties throughout the year. And one of the biggest times for get-togethers is in the summer! Today we want to focus some summer centerpiece must-haves to give your home a warm and inviting space while adding some style to your table.
Small Topiaries


Think a little outside the box next time you put together a centerpiece. Who says your table decor has to be flat and horizontal. Add some height and dimension to your table by using small topiaries. This will give your table the illusion that it is bigger and grander than it actually is. Mix in small topiaries down the table while one large one sits in the middle for an extra heightening effect. Use them to accent an already existing tablescape and freshen up an old look. Plus the versatility of using topiaries are endless and can be used for multiple events. Put a bow on a topiary for a wedding table setting or add some burlap around the pot to give it a more rustic feel or even use a topiary as a name card holder like we discussed in our last blog, Creative Ways to Decorate with Boxwood.
Candle rings
Using candle rings is a classic and elegant way to decorate your table. You can go as elaborate or as simple as you want with candle rings, but either way, you know your table will look great. If you are thinking more elaborate, place your candle rings and candles on different levels. Use sturdy decorative boxes, candlesticks, bowls, or vases as a part of the display to add height to different points on your table. This type of design is great for a buffet table or any area where food is displayed. You can also use candle rings on the back each dining chair as an added touch of greenery to your table display. It is a unique accent that adds elegance and charm. Small wreaths can be used to encapsulate larger items too, like lanterns or oversized candles.
Decorative Balls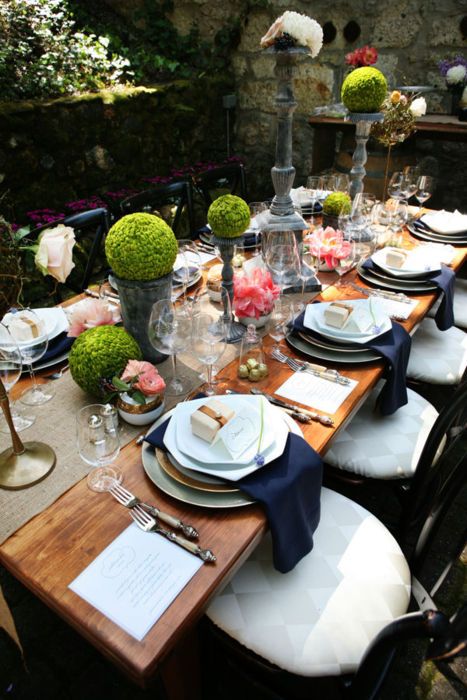 Another way to make a classic table decor look is to use decorative balls. There are so many types of decorative balls and ways to use them. A traditional way is to place them in a bowl or vase, but if you are feeling a little spicy try sitting larger balls on top of a vase or candlestick or if the ball has a string hang it from a tree centerpiece. There are so many versatile ways to use decorative balls, that you can rearrange for every season. If you are thinking of a more classic way to display your deco balls you can use different types of mosses in a bowl and set the balls on top for a simple look with a touch of nature mixed in.
Garland
Garland is not just for lining your mantle or staircase anymore, use your garland as a table runner for a dividing line between each side of the table. Not to mention using a garland as your centerpiece eliminates a single centerpiece in the middle and makes your table more uniform and on one level. Your garland table decor can be chunky like the one above or it can be more simple and just be a subtle addition to the flow of your table, like in the second photo above. Plus using a garland is a quick and easy way to make a table display on a time crunch when you have last minute house guests. It's quick, affordable and it's great for someone who doesn't have a lot of time to design, but still wants something presentable.
Baskets
Depending on the basket, you can give your table a unique touch and add to the overall theme of your table. Wiker baskets will give your table a really elegant farmhouse theme and so will wire baskets. Baskets are a great accent to any rustic theme you may have and you can dress it up or dress it down depending on the occasion. Plus baskets are extremely versatile, provide great storage while accessorizing and you probably already have them on hand!
By combining these table decor staples, you are sure to make exquisite centerpieces that will have your guests coming back to your home to see what you do next. Do you have some of these staples in your arsenal this summer? If so, share with us, we want to see your creative summertime table decor!
Please follow us on social media!