Luscious Lavender Wedding Ideas
Published November 8, 2018
Planning for the big day is exciting and fun for a bride-to-be, but sometimes deciding on a color scheme can be tough. You want something that matches your personality, is affordable and elegant. Picking a flower is a good springboard for deciding your color scheme, which is why we suggest lavender as your wedding's focus. As we continue our series on lavender we want to take a look at some ideas for decorating your wedding in our favorite periwinkle plant, lavender!
To start, think about what you want your bouquet to look like. Do you want sprigs of lavender scattered throughout the arrangement or have a single lavender bunch? One of the great aspects of lavender is that no matter how much or little you use, it can elevate the elegance in the room. Here are a couple of bouquets that we absolutely love.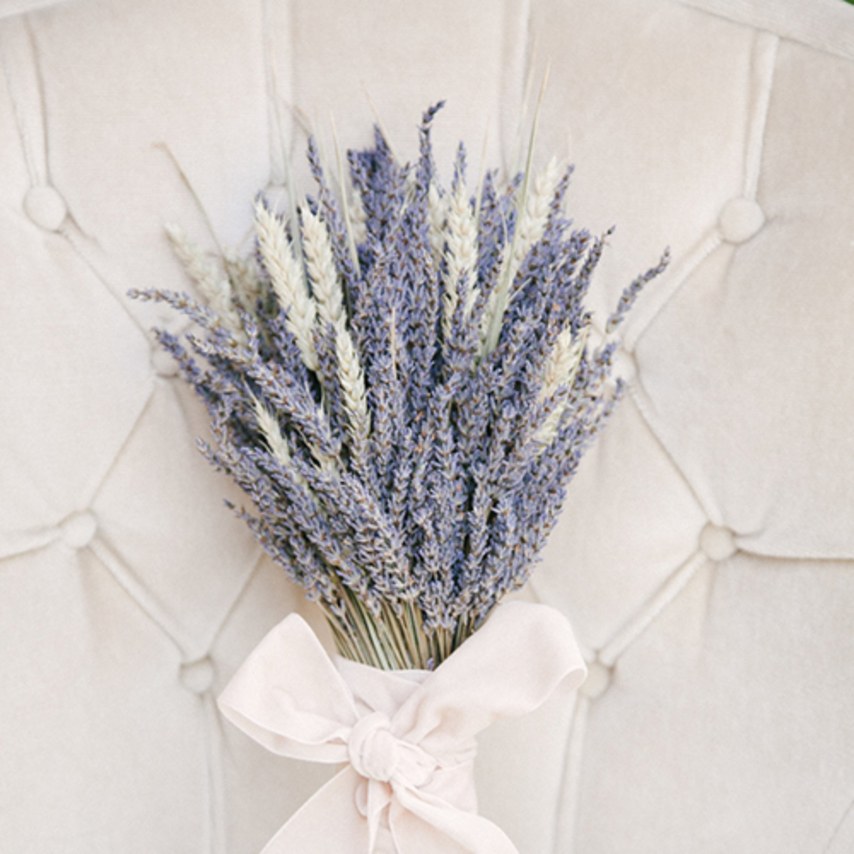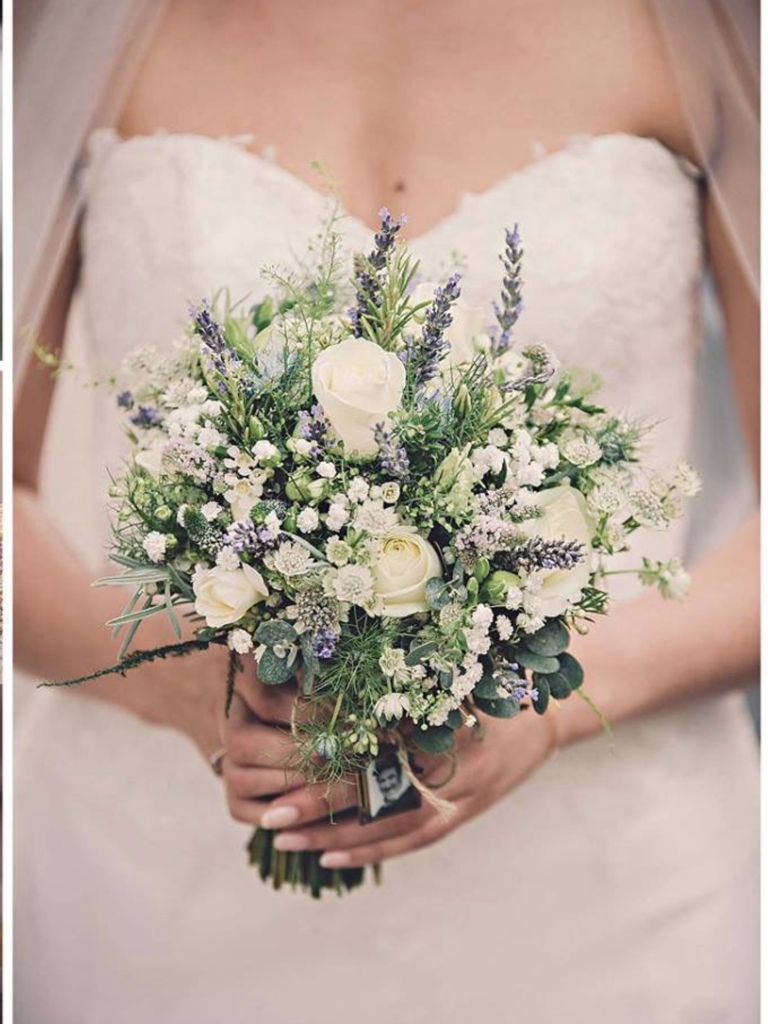 Photo Credit: Brides.com and Tudor Rose Florist
You can't forget the boys, we are in love with these lavender boutonnieres, tied with some jute twine. Simple and elegant. And for the bridesmaids a simple lavender bunch will complete the look; make them with all lavender or throw in other small flowers and herbs to give a pop-of-color among the violet.
Photo credit: Brides.com and lovewedbliss.com
Another twist to add to your wedding is to have your guests throw lavender buds rather than rice. It's safer and smells great wafting through the air.1 You can put the buds into tiny bags like the ones below and have them at the exit of your venue for your guests to pick up. Plus, after it's all said and done they get to keep the bag.
If you're thinking of favors for your wedding, there are a plethora of lavender options. Everything from lavender oils to bath salts or even homemade lavender soap. Giving your guests something that has your personal touch can really make an impression on your guests. It tells your guests that you care about them being there for your special day.
To give your invitations some purple flare, stick a stem of a lavender in each invitation or in a menu card or tied to their napkin ring.2
Photo Credit: Weddingwire.com
It's not a wedding if you don't have gorgeous centerpieces at your reception. We love the idea of taking a mason jar and filling it with some lavender buds, then putting a white, semi-tall candle in the center of the jar, tie some burlap, jute twine or lace around the jar and voila! Instant elegant farmhouse look.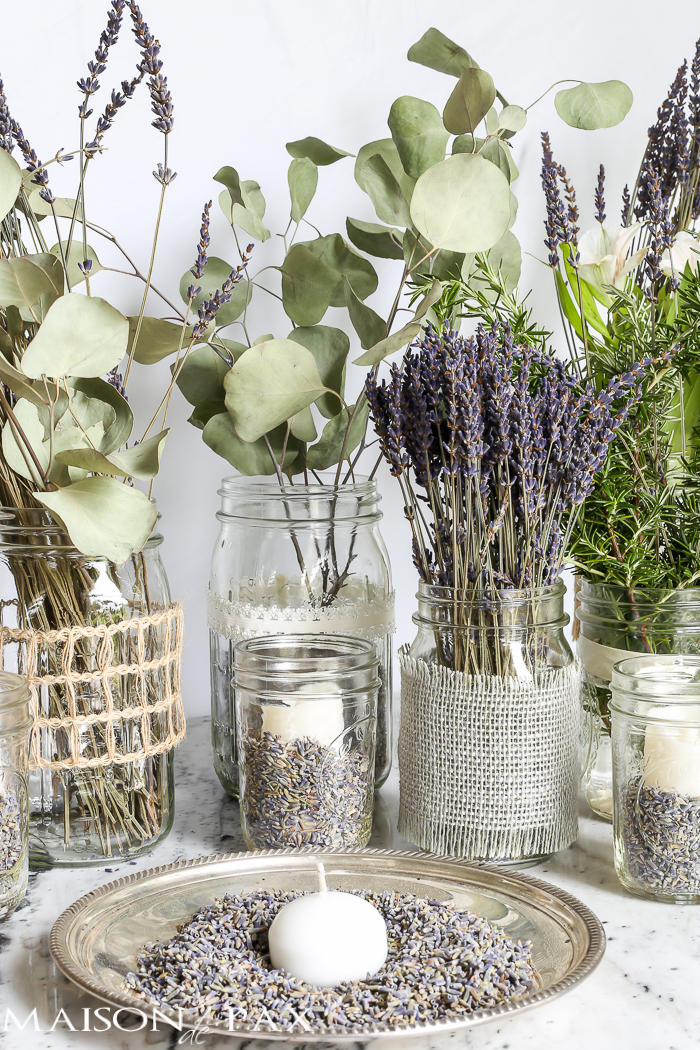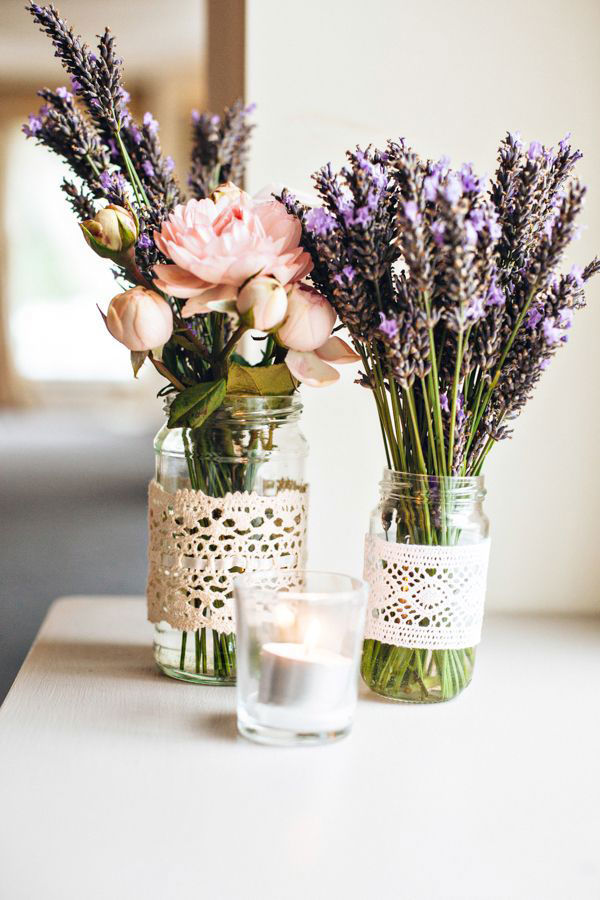 Photo Credit: Masion Depax and Mywedding.com
Use this fragrant flower in your hair on your big day. Use baby's breath and assorted leaves to make a crown of lavender or simply tuck it into a few strands of your hair for a quick touch of elegance.
Photo Credit: jengrantham.com and Brides.com
There are so many ways to use lavender in your ceremony décor. First, tie bunches of lavender on to the chairs or pews that line the aisle or use it in an archway at the altar.3 Additionally, you can add a sprig to your programs. You can even fill a container with lavender buds and store your wedding bands in a box for the ring bearer to carry. You can also use a sprig or two on the back of your chairs.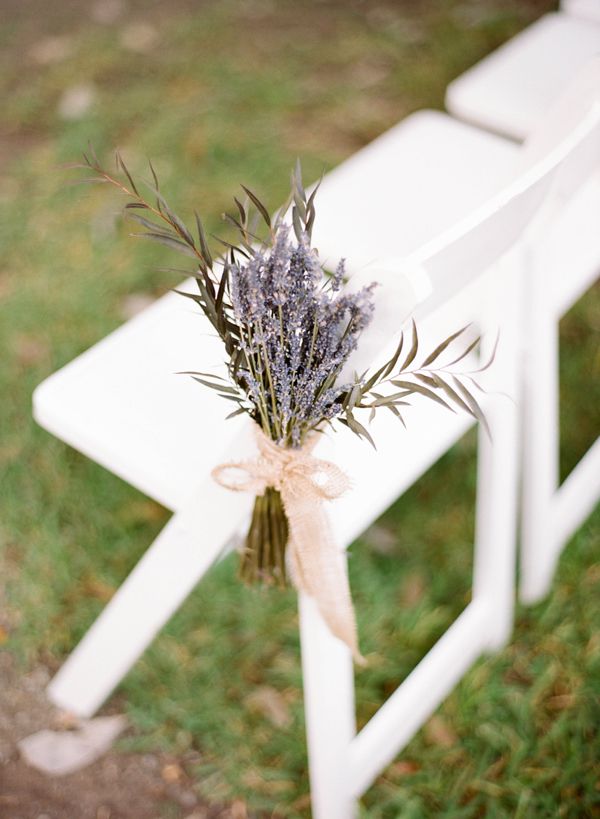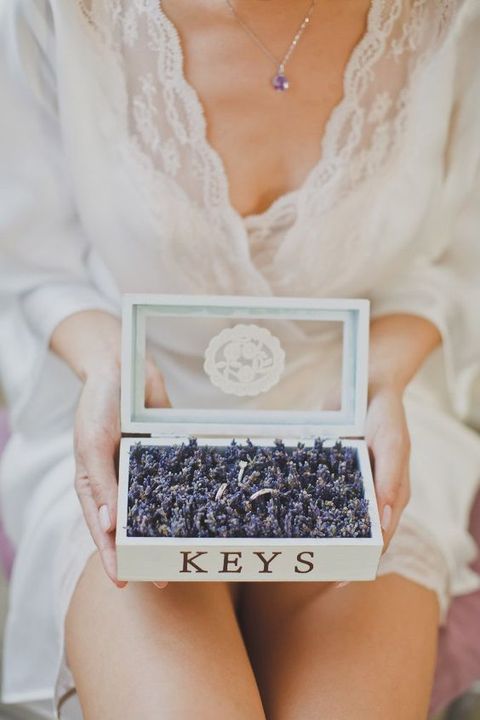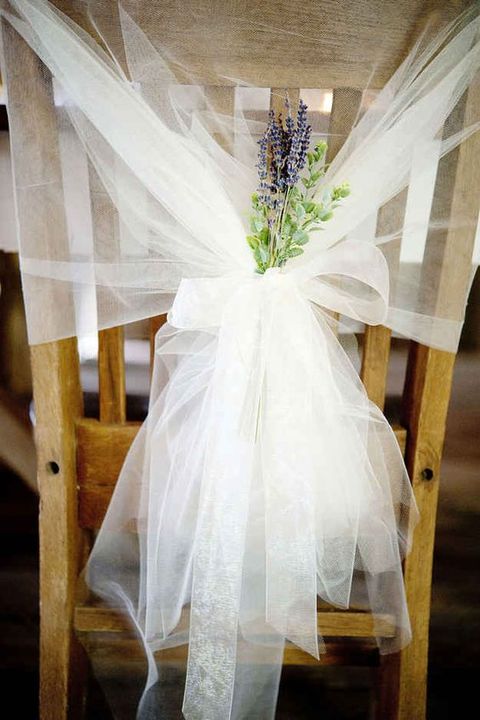 Photo Credit: WeddingChicks.com and happywed.com
And what's a wedding without a cake? If you want to go for a softer, elegant look for your cake start with a simple white frosted cake. Then have your baker add sprigs of lavender around each layer of the cake.3
*Please note that our lavender is not food grade.*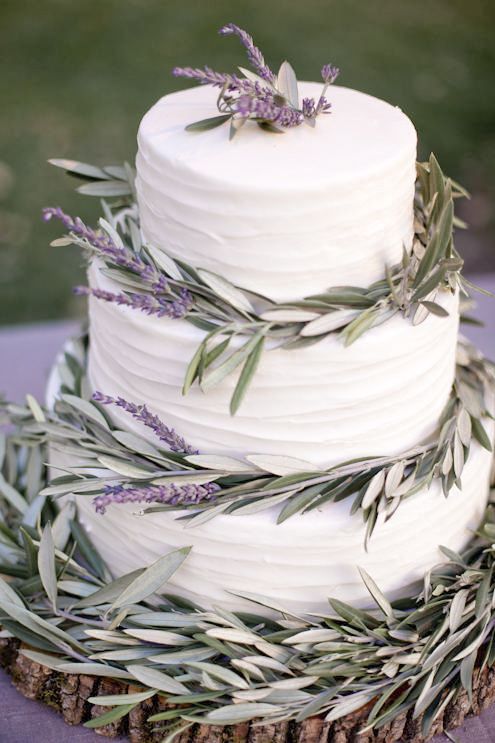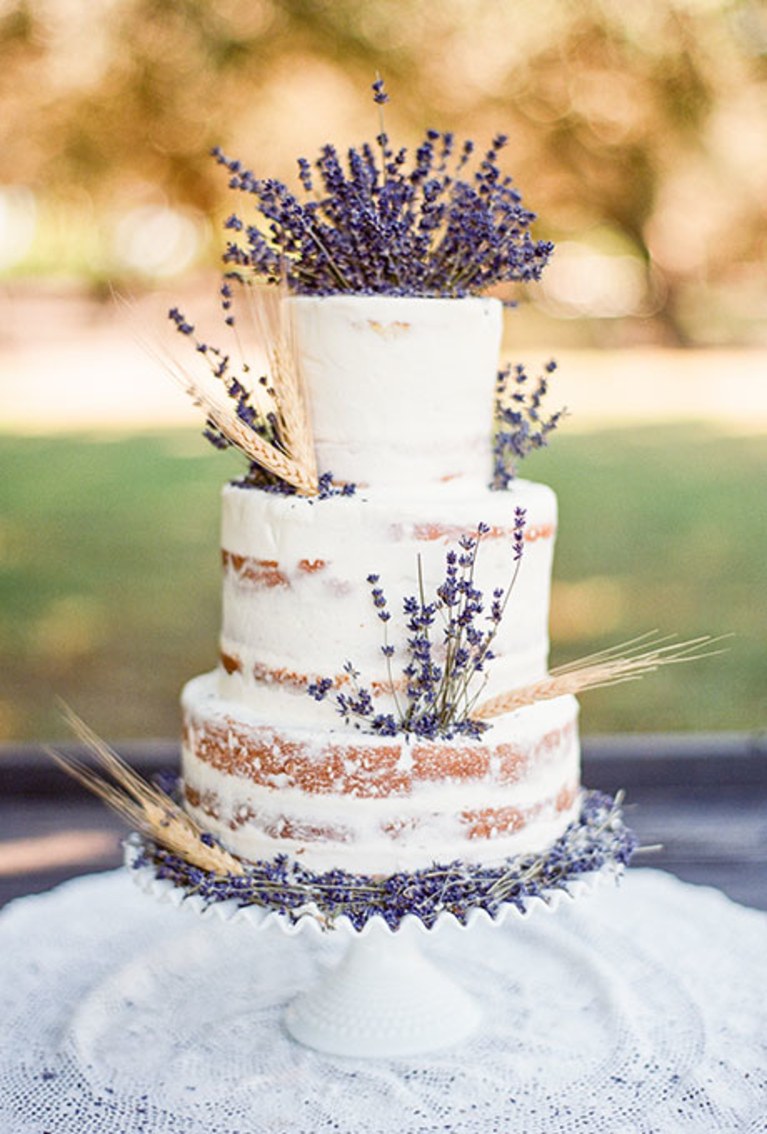 Photo Credit: Brides.com and happywed.com
Place a sprig here, there, or everywhere for a soft, romantic wedding all around. Lavender is one of our top sellers and we can see why, the possibilities are endless with this beautiful herb. Our French lavender should be here mid to late November. Call to pre-order now!
Have you ever wondered where our French lavender comes from? Click below to check out the video from our growers in Provence, France!
**Our Lavender shipment is coming soon. Expected arrival is mid to late November. Call office for pre-ordering, cannot order online until it is in stock. Due to volume of current orders in our system and expected orders, there will be some delay in shipping of orders.**
Call us now! 1-800-762-7939
____________________________
Sources:
Please follow us on social media!